Burma Link | March 20, 2017
On the banks of the Salween River, one of the largest free-flowing rivers in the world, local communities and community-based organisations gathered together on March 14th — marking the International Day of Action for Rivers — to loudly oppose plans to construct large dams that threaten the locals' lives, livelihoods, cultures, and fragile ecosystems. At one such event taking place in U Wee Klo, a section of Ei Thu Hta IDP (Internally displaced person) camp in the Karen State, Karen Rivers Watch organised a rally with some 200 participants from both sides of the Thai-Karen border. The dams are being planned with little or no consultation with local populations whose lives are threatened by these mega projects ignoring the voices and rights of locals. Burma Link spoke with Naw They Nay, the Karen Women's Organisation Chairwoman for Ei Thu Hta camp. This is her message for the companies, Thai and Burma Governments, and Karen leaders.
I feel contented to have attended this event, because many people have not seen the local place where we live. Thus, people around the world do not acknowledge our situation
[here]. In accordance with the ignorance of our situation, we gathered together and unitedly raised our voice loudly to draw many people's and media's attention, to show how our livelihoods are connected to this river.  We want the whole world to see that we live here and we do not want the dam to be built [on this river], because this will create many consequences, like we have heard and witnessed.
We will lose our lands. This will create natural destruction. Our animals will have nowhere to live.
We have already seen an example of Law Pi Ta Dam, which is a very huge dam that didn't bring any advantages or benefits to indigenous local people of Karenni State and the people in Moe Hkee area who are affected by it. Moreover, local people don't have access to any electricity [produced by the power plant] at all. Therefore, we don't want [a dam in our area] at all, because of these factors. We heard that [the dam] will be built in two places [in the Karen State]. Where are the [local] people going to live with these two dams, when only one dam causes a lot of natural destruction? That's why, we are against the dam that will not benefit us and will bring difficulties for women and children in terms of health and education.
We want the big companies that are planning to conduct the dam projects to sympathise [with us] and take a critical consideration for the advantages and sufferings due to the destruction. We know they are rich and have plenty of money but money cannot buy human lives. So we beg not to steal our indigenous lands, let us live peacefully in our own lands. This will [only] be beneficial for them, they will not be affected by the [consequent] destruction as the place is far away from them. Therefore, we hope they won't come and interfere with our lives.
We have lived with difficulty for more than 60 years since our great grandparents. We do not want our upcoming generation to encounter this hardship again, but to live with peace and freedom. So, we try to protect [the river] against dam construction.
Our local villagers' efforts alone are not strong [enough]; therefore, we collaborate with organisations such KSNG (Karen Student Network Group), KWO (Karen Women Organisation), KORD (Karen Organisation for Relief and Development), CIDKP (Committee for Internally Displaced Karen People), Thai people, and Mon ethnic people who are affected by the dam construction. We will gather lots of people to raise our voice loudly, [to say] that we condemn the dam project.
Now, we will have a new KNU (Karen National Union) Government very soon, so I would like request our leaders to consider this big issue and stand by our side bravely against this dam project.
We have heard that the dam constructed on the Salween River will be huge, but we have never seen or heard from the people, like the wealthy individuals [who conduct the dam project] coming and notifying the local people that 'we will start building a dam; we will benefit this amount of profits; there will be consequences like this and that; then we will support you because of these consequences by compensating money balanced with your land's value.' We know that the Salween River dam project is operated by Thai and Burma Governments. We would like them to consider carefully and think about the destruction, consequences, and hardship [the local people will encounter] and be able to distinguish what is good and bad.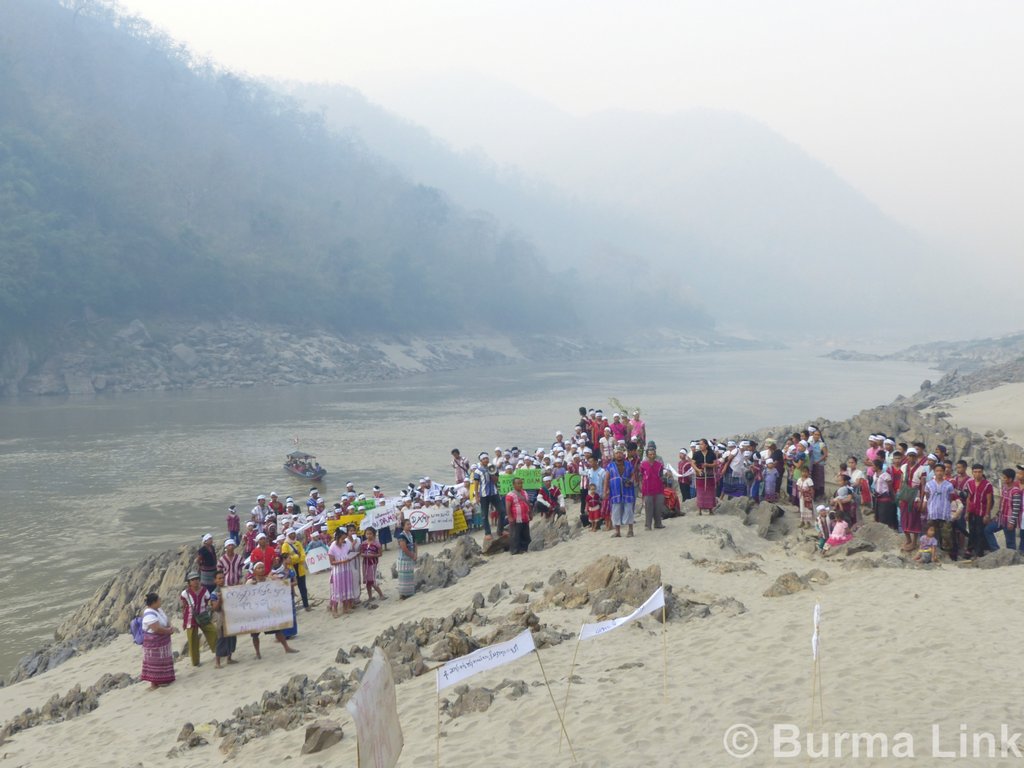 View photo gallery of the rally in U Wee Klo IDP camp. 
Read article by Leena Zieger, Founder and International Coordinator of Burma Link, on DVB. 
Burma Link interviewed Naw They Gay in Ei Thu Hta IDP camp on March 14, the International Day of Action for Rivers and against Dams.